Majority Rules – The Wicked Witch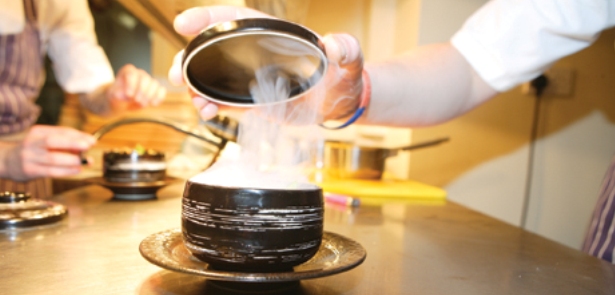 He might be used to bossing Peterborough United players around, but when it comes to making decisions about his new pub and restaurant, Darren Ferguson doesn't always get his own way: his three co-owners see to that. Meet the team behind the region's hottest new bar and restaurant
Democracy is alive and well at The Wicked Witch.
The four co-owners of the new, and uniquely styled, country pub and restaurant in Ryhall near Stamford get together to discuss every aspect of what is their first business venture together. From the colour of wallpaper to the right kind of light switches, no decision, however small, is made without getting heads together to consider the options.
So when we visited the premises that used to be the quiet Millstone country pub, we were naturally joined by all four investors as we sat down at a table to learn the full story of The Wicked Witch.
By its very nature, democracy can be noisy and chaotic, as everyone with the right to vote wants to have their say. And the small gathering of people round the subtly-lit and immaculately-laid wooden table in The Wicked Witch all have stories to tell about getting their new business up and running. They laugh, roll their eyes in mock exasperation, and reminisce like any gathering of friends would do in the convivial atmosphere of a country pub.
I never thought that a wall socket or a light switch could ever have made me cry. But I know different now.
Nicola Ferguson says.
'Really?' her husband Darren asks, clearly hearing this piece of information for the first time. 'I didn't even know that. That's a bit worrying!'
And yes, it is that Darren Ferguson, manager of Peterborough United and son of the legendary Sir Alex, now taking his first tentative steps into the catering business along with his wife Nicola and their two friends, Mark and Sarah Bunce.
Nicola's wall socket revelation shouldn't really have come as a surprise; it's just one example of the hard work and attention to detail that all four partners have put in to realising their vision of a sophisticated city dining experience in the rural tranquillity of Rutland.
It may be fun to dream up the look of your perfect pub or restaurant in your head, but the practicalities of making it happen were a nightmare!
she says.
Id ask an electrician if he had light switches and he'd say yes and show them to me and they'd be totally different to what I'd envisioned. It's hard to get other people to understand exactly what you want without being there the whole time.
'We had to go to a lot of auctions and antique shops to get the things we wanted' Sarah Bunce adds. 'The standard white plastic items we were being offered were just totally wrong for the whole look we wanted to create.'
That look is the first thing that strikes a first-time visitor to The Wicked Witch. From the outside, the old stone building that used to be The Millhouse pub, looks like countless others in the area: quaint and attractive maybe, but not offering any clues as to what lies within. The only indicator of that is the name itself and the eye-catching sign depicting the black-and-white-striped legs of the Wicked Witch of the East (subtly appropriate, since Ryhall is in the extreme east of the county of Rutland).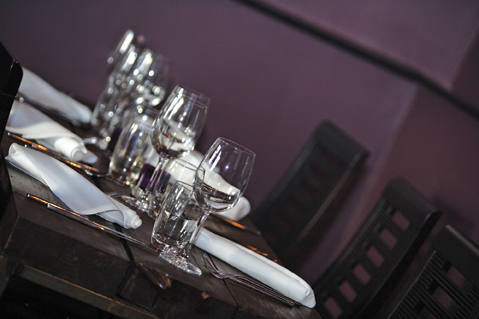 But step through the front door and the low lighting, log fire, leather sofas, well-stocked wine racks, and attention to detail in every fixture and fitting, could easily fool you into thinking you'd just walked into one of the poshest restaurants in Covent Garden. It's no mistake: the owners have been inspired by just such establishments and very much wanted to offer an alternative to the usual country pub experience. 'There's quite a few places where we go to eat in and around Stamford that we really like' Nicola explains. 'Like the Olive Branch and The George Hotel. The George has its own style and you always know what you're going to get when you go there. I just thought there was a niche in the area for a place with a bit more style than the usual country pub – something a bit more quirky. And with the food we serve, I feel we can compete with any establishment in the area. The Wicked Witch is just somewhere a bit different to go; you know, we've not just painted the walls cream and just gone for the traditional country pub look like so many other places. I'd like to be able to establish ourselves as "That quirky pub outside Stamford that does amazing food."'
Another source of inspiration for the Fergusons was the Crazy Bear group which operates several high-end restaurants in London and beyond. 'We went to the Crazy Bear near Oxford and they had done a fantastic job in creating an atmospheric bar and restaurant that served really great food' Nicola says. 'We just loved the style of the place and that became a source of inspiration for The Wicked Witch.'
In the current financial climate, new businesses are something of a rarity but Darren Ferguson is convinced there's still plenty of people out there willing to spend money on fine food and a good night out. 'I think it was the right time to do it actually' he says. 'Setting up any new business is always a risk but there was definitely a gap for this kind of place. You go to The Olive Branch or The George in Stamford and they're always full, so people are clearly still spending money on good food. So why not here? We're not charging extortionate prices either' (a pan-fried fillet of stone bass with Lincolnshire smoked eel risotto and watercress veloute will cost you £16.50, while handmade linguine with Jerusalem artichokes, leeks, trompettes, and lightly truffled cream costs £12).
In the true spirit of democracy that prevails at the Witch, we're joined at the table by another key member of the team, general manager Dominico D'Angelo, a sharp-dressed Italian who was practically born to the catering trade.
I've been in this business since I was 11 years old. My dad and my uncle had one of the first Italian pizzerias (Antonino's) in Peterborough and they taught me the ropes. I've worked at Fratelli's restaurant for the last 15 years as their general manager.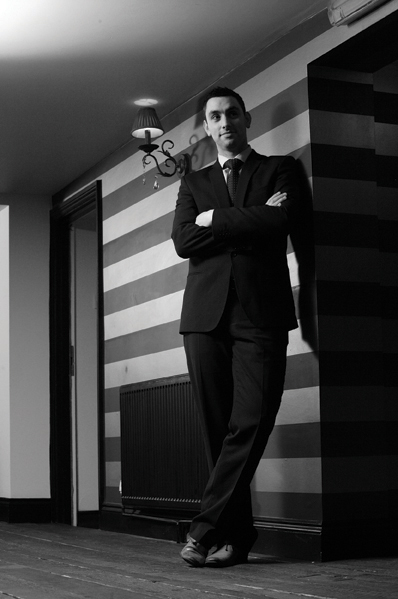 Darren Ferguson used to take The Posh players to Fratellis on a fairly regular basis 'because their training ground was nearby', and D'Angelo's skills as a front-of-house manager left such an impression that he was the first person who came to mind for the job of running The Wicked Witch. Since none of the four owners have any experience in the catering business, finding a highly motivated and experienced general manager was crucial. 'I wouldn't have a clue about the management side of things' Nicola admits, 'so I leave all that to Dom. But if there's anything outside of that then the four of us will get together and discuss it. Any creative ideas we have we'll put to the others and see what they think about it. If it's food-based then obviously we involve the chef, but there's other things like entertainment that we plan. We have an amazing singer who comes in on a Sunday so people can have Sunday lunch and then just chill out for a few hours listening to some live acoustic music. It works really well.'
The majority rules ideology was even observed in choosing the establishment's refreshingly different name as Nicola explains.
I loved The Wizard of Oz movie when I was a kid but we had a few names in the hat so we got together with some friends and voted on which we liked best. I think the others were a bit unsure of The Wicked Witch at first – especially the villagers – but eventually it won the vote.
The Fergusons were already familiar with the premises, having visited on several occasions when it was trading as The Millstone. 'We first moved to the area five years ago when I took on the Peterborough job and we bought a house in Stamford' Darren explains. 'Then I changed jobs and moved to Preston (Ferguson managed Preston North End in 2011) and then came back here again when I went back to managing Peterborough United. We weren't exactly regulars at The Millstone but we came in occasionally so we knew the potential of it.'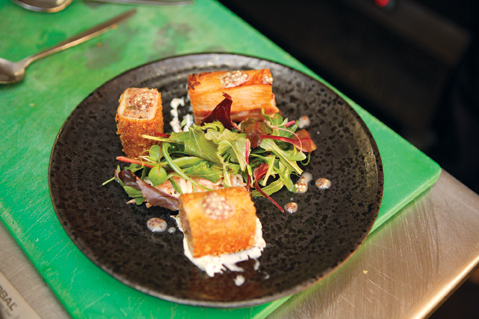 'It was mostly just a drinking pub so it was dead most of the time' Nicola expands. There's another two pubs really close by and not that many people live in the village so we knew we had to offer something different to make this work. We always said that if the place ever came up for sale then we'd be interested in buying it and trying to make a real go of it.'
And judging by the response on the opening night on February 11, their plans are going to pay off. 'On our first official Saturday we did something like 78 covers (meals) which was fantastic' Dominico explains. 'We just opened the door and they were flooding in!'
And that's been without any serious advertising or promotion. The team has so far even refrained from exploiting their famous partner's name in trying to drum up interest. 'We've not really played on Darren's name at all' Dom says. 'In fact, between the five of us, we've generated a lot of people coming through the doors – just friends and family – without even having started to advertise yet. It's all been word of mouth so far.'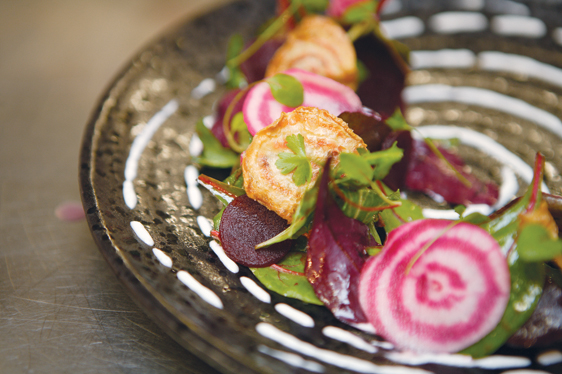 The Witch isn't just a restaurant: it functions as a pub too, so customers are more than welcome to just pop in for a few drinks. But great food was always going to be the Witch's secret weapon and that's why the owners went out of their way to find the best chef they possibly could. 'We found our head chef, Dan Gill, through a chef's agency' Nicola explains. 'Several people sent their CVs through but Dan had worked at Le Manoir in Oxford (Raymond Blanc's Two Michelin Stars restaurant) and Midsummer House in Cambridge (another Two Michelin Star establishment) so he immediately stood out. A few chefs came and cooked for us as part of the selection process but Dan cooked a smoked eel risotto that was just amazing so we knew we had found our man.'
The Fergusons and Bunces ran the premises as The Millstone for a short period over Christmas before closing down for a month for a complete refurbishment. And only then did they realise the enormity of the task they had taken on. 'We only had a month to do everything and we didn't really have a detailed plan' Mark Bunce explains. 'We knew we'd have to work out how to do everything ourselves and when it came down to taking things apart and so on, we didn't know if a month was going to be enough. In the end, it just about was, but it was close. Very close! We had advertised the opening date so all the work had to be done in time for that.'
The first few weeks we had the pub, I thought it was really good fun. On the Saturday night when we took it over we had no staff so the four of us had to work behind the bar. We couldn't even figure out how to work the till properly so I think it ended up costing us!
'I thought that was really good fun actually!' Darren says, before his brow furrows. 'But we got a bit stressed towards the end of the refurb. I think I can speak for all of us on that count.'
'Oh, the refurb was not enjoyable at all' Nicola agrees. 'It was so stressful. And way more work than we expected. New kitchen, new floors, new fires, new toilets; it really was a case of replacing everything.'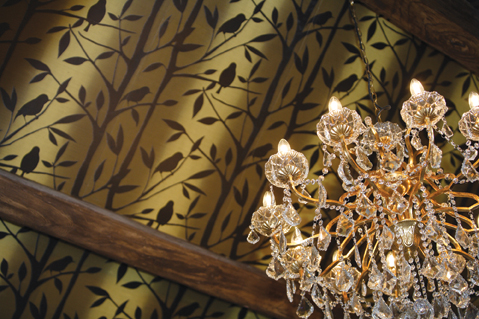 But the storm is now over and the Witch is settling into a more sedate routine now that it's up and running. 'I think we've been doing a pretty good job of getting people through the doors' Nicola says with pride. 'And when they get here, they all tend to be very surprised by how it looks. They all say it's amazing and nothing like anything else in the area. There are so many pubs that just look the same and serve the same kind of food.'
Mark Bunce agrees. 'Yeah, all good eateries in the area look remarkably similar; they're all cream walls, wooden beams, and very traditional. I like to think we've kept a little bit of the theme of the country pub but added something different too.'
There are plans afoot for more different occasions too as Sarah Bunce explains. 'As the summer months come in, we're planning to do jazz Sundays as part of a big Sunday brunch thing. So it won't be a standard Sunday roast at the standard time; it'll start a bit earlier and people can have a very chilled day trying lots of different kinds of food, drinking champagne, and listening to good music. Something a little bit different. There's a few places in London that do that but certainly nowhere round here.'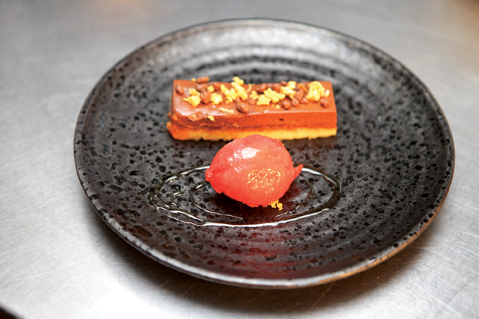 The Wicked Witch has already had one celebrity diner's stamp of approval in the form of Darren's dad, Manchester United boss, Sir Alex Ferguson. 'Yeah, my mum and dad came here a couple of weeks ago and really liked it' Darren says. 'I'm pretty close with my dad so we're in touch all the time. And people have been fine with him: he doesn't get pestered when he comes in for a meal; people tend to pretty much leave him alone.'
Darren, a former Man Utd player himself, seems quite comfortable with having such a famous father, though he realises he doesn't exactly have a choice in the matter. 'I've never known any different' he says. 'I know I'm always going to be referred to as Sir Alex's son and he's not going to change his name, is he? It is what it is.'
He also feels that some of the skills he's developed as a football manager have been transferable to running a restaurant. 'I would say so – you've got to manage people in this game too at times. There's been occasions when we've had to sit down and make decisions between the four of us and it can be three-to-one so the majority always wins. Whether it's decisions about the wallpaper, the menu, or the staff, that's the way we do it and it seems to be working so far.'
Meet the Chef Dan Gill, 26, is head chef at The Wicked Witch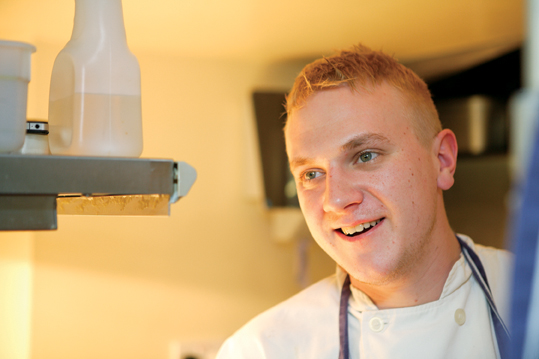 'I started washing pots when I was 12 years old as a Saturday job in my home town of Lincoln. Eventually they asked me if I wanted to try and make a few starters and puddings and I just fell in love with the buzz of a working kitchen. After studying to become a chef I started working as an apprentice at Le Manoir in Oxford (a Two Michelin Star restaurant) and worked my way up to senior chef de partie before moving to Midsummer House in Cambridge (the only Two Star Michelin restaurant in East Anglia) and was sous chef by the age of 23. Then I went to London for a couple of years and was head chef at Roussillon (another Michelin Star restaurant) where I won three rosettes in six months. But I wanted to get closer to home and my daughter so when this job came up it was perfect.
'When I met the directors here they told me they didn't want to serve pub food – they wanted it to be restaurant quality food but with bar snacks as well (The Witch offers snacks like a Lincolnshire Poacher fondue for £5.50 or home smoked mackerel pate with toasted rye, shallot and chive mayonnaise for £6) and I think that's what people want nowadays: to eat good quality food but in a less formal setting. They don't want to get all suited and booted just to eat; a nice shirt and a pair of jeans is more relaxing. As soon as I saw the building and learned about all the local produce that's available, I knew exactly what sort of dishes I was going to put on the menu. I'm not an egotistical person so I'm not going to cook food that I cooked in London just to show off. It's all about making the best of the local produce and seasonal ingredients. Our lamb is reared in the fields behind us, the beef is farmed in Bourne, we get fish from Rutland, we go out and forage for our own wild herbs: when you eat at the Witch, you're eating part of Lincolnshire itself!
From the Menu
A small sample of dishes from the menu at The Wicked Witch*
Begin
Squashed Duck: Confit duck leg, butternut squash soup, red onion marmalade, pine nuts: £7.00
Scottish Scallops: Pan-seared Scottish scallops, apple puree, coriander cress, pickled ginger: £11.00
Middles
Cod: Pot roast fillet of Cornish cod, white bean and cockle cassoulet, home pickled lemon: £13.00
Lincolnshire reared beef: Char-grilled sirloin, braised rib, potatoes, shallots, red wine and bone marrow sauce: £22.50
End
Coconut: Toasted coconut rice pudding, passion fruit and mango compote: £6.50
Banana and cherry: Banana bread and mousse, caramelised banana, sour cherries: £6.50
• The menu is frequently changed to take account of fresh seasonal produce so these dishes may not be available when you visit.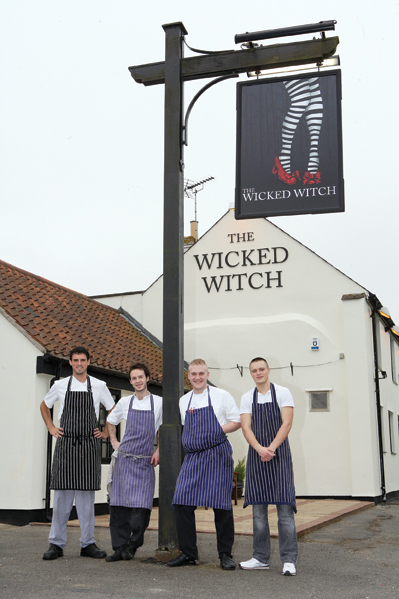 The Wicked Witch, Bridge Street, Ryhall, Rutland, PE9 4HH
Tel: 01780-763649 www.ryhallwitch.com email:
Lunch from 12-3pm Tuesday to Saturday, 12-4pm on Sunday
Dinner from 6-9.30pm Tuesday to Saturday