Chocolate Orange Truffles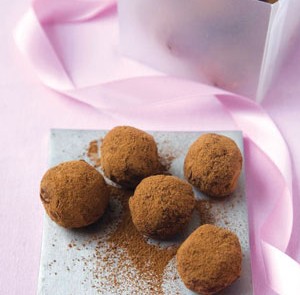 Home-made truffles are such a treat, and you can ring in the changes by adding a flavour that you know the person who is receiving them will really like. I have used orange rind here, but you could also try stem ginger, chilli, cinnamon or crushed cardamom seeds – or think up some of your own.
Makes 35-40
Ingredients
200ml double cream
300g dark chocolate, very finely chopped
finely grated rind of 1 orange
1 tbsp cocoa powder
A really indulgent present for that special person in your life
Method
1. Place the double cream in a small pan and bring to the boil. Leave to stand for 1 minute.
2. Place the finely chopped chocolate and grated orange rind into a heatproof bowl and pour in the cream. Stir to mix and melt the chocolate then leave to cool.
3. When the mixture is cool and has thickened, but not set completely, use a teaspoon to measure the amount of truffle mixture to place in your hand and roll into a ball (this is very messy, but worth the effort!).
4. Finally, roll the truffles in the cocoa powder to coat them.
Checkout more recipes