On a recent walk down Bridge Street, a sparkling shop front caught my eye. And when I noticed it was a shoe emporium, I naturally had to step inside
EL SHOE BOUTIQUE, with its crisp modern interior and ambient lighting, is a family run business. After realising there was a gap in the market for quality unique shoes and bags for men and women, Elsa Ringler opened the store in December 2011 – goodness only knows why I hadn't discovered it before now?!
The store is open seven days-a-week with a late night on Thursdays, so you can shop to you hearts delight all week through, filling your literal 'boots' with brands from Spain and Portugal – including some handmade pieces.
At El Shoe Boutique they pride themselves on affordable good quality unique products that you won't find anywhere else in town, whilst offering personalised customer service, so if you have tiny size 2 feet or need wider calf sizes they will help you find it.
I especially love their riding boot styles: a definite must for this season!
El Shoe Boutique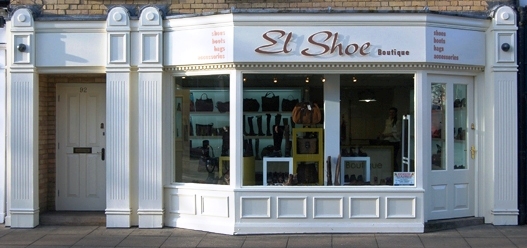 92 Bridge Street
Peterborough
PE1 1DY
Tel: 01733 315 321