Accessorise All Areas – Reba Boutique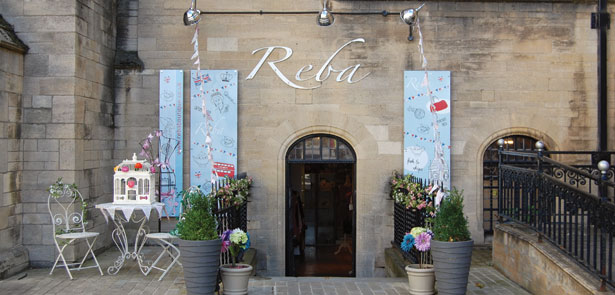 The Moment talks to Reba Boutique owner Rachel Parkin
Tell us a bit about yourself
I'm 45 years old, I live in Stamford and I've owned Reba for over 18 years now although it only feels like about five! I have a small child and another business too, so life is very busy.
Why did you choose to do what you do?
I travelled in the Far East for a couple of years after university, living and working and after two years on the road I was ready for a new challenge. In all honesty it wasn't all part of a grand plan, but once you set off on a path, doors open and the next step becomes apparent – even though you couldn't see it when you started. I started off selling jewellery I'd designed and had made from a stall in Bridge Street and while I loved the freedom of this, after a few years the winters became just too cold and a shop looked more appealing.
Why did you choose to stay in the area?
Actually I met my husband while travelling and since he wasn't English, we tossed a coin to see if we would go to his country to live or mine… It came up tails – and we're still here. Aside from the initial coin toss, my family are here and they help me a lot.
What have you been up to lately?
No two days are the same, so we have trade exhibitions on at the moment for my other business – we are presenting new collections to our customers for feedback. In Reba we are getting ready for the change in seasons – autumn is definitely on its way and the children are back at school so that requires an overhaul in-store with new displays, merchandising and stock.
What successes can you share with us?
Eighteen years in business particularly in our recession economy would be our biggest success, the shop has had many incarnations during this time as we've evolved over the years, and of course we've had a fair few Reba babies over the years!
Working for yourself is hard. What keeps you going?
Working for yourself is definitely not the easy option nor is it for the faint-hearted or work-shy, but it does have its rewards and for me they'd include being able to do what you want, when you want and not having to have someone to tell you what you should do.
What keeps me going? Aside from caffeine (in large quantities) I like that it's always changing – fashions change constantly, both in homewares and clothing, and there's always something new to get excited about. On a personal note, I like that there's always room to learn something new – so it never gets boring – business is multi-faceted, just when you think you've got something down pat, you'll find that there's a new level to take it to.
What's the philosophy behind Reba Boutique?
Reba is a lifestyle boutique, which means it carries clothing, jewellery, accessories and gifts. Over the years we've thought about specialising in one particular area, but I like the mix of products that we sell. We aim to have a different offer from the high street stores that abound in Peterborough, so if you're looking for something a little more unusual, then you'll find it in Reba.
Tell us about the building
Number one Cathedral Square is a scheduled ancient monument. It's a beautiful stone-built property with amazing vaulted ceilings and of course it also houses the old 'hangman's cell'. The museum gave us back the door to the cell and it's now rehung inside our front door on the left hand side. We have a fair few retailing challenges, not least of which is our lack of windows – ours were designed for shooting arrows from and the fact that we're set down a short flight of stairs – which in olden times meant that when the property was a prison it would have flooded each winter and the prisoners would have been up to their knees in water all winter! Thankfully we have a much improved drainage system these days.
Is it really haunted?
Well, I don't have anything official to base this on, but the girls have long blamed 'Alan' the Reba ghost for any misdemeanours – things do get moved, and disappear, but whether Alan works alone, I can't confirm or deny.
What clients do you attract?
Over the years our clients have ranged from school children (and younger) right up to pensioners, but as our business has evolved and since it's now a boutique I'd say that our customers are predominantly female (or men on a strict mission) and from the ages of 14 to 50 although this obviously changes at times, such as Christmas for example.
What are your most popular pieces?
At the moment, our jewellery sells very well – particularly Blowing in the Wind which is our collection of real leaf jewellery – and Kate Hamilton Hunter's collection of jewellery made from vintage biscuit tins always sells out. On the homewares, East of India is a staple for us, they do beautiful and sentimental pieces in their own inimitable style and for quirkiness I'd pick our biscuit cushions. Everyday sellers are our huge array of scarves which have become a wardrobe staple over the past couple of years and almost as popular an accessory as a signature handbag.
Which pieces do you like the best?
I love the scarves, they're inexpensive enough to choose a different one for every day of the week, so you can change your look at minimal expense and I love the jewellery – Our Vintage collection will come into its own as we move into the little black dress season and sparkle becomes de rigueur. Thinking about it, I'm a sucker for any kind of accessory – but what woman isn't ?
Looking back at my time with Reba, we've been so lucky, the people of Peterborough have continually supported us and since we're an independent store we've been able to do whatever we've wanted (within reason). We've also recently been given the lease for the upstairs of our store, so when the time is right we'll be launching a new venture – watch this space!
Leave a Reply