A look at the bright side of life – Sat Feb 11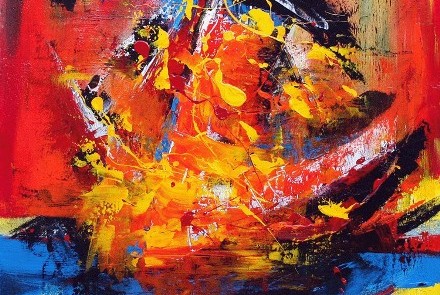 This exhibition of paintings – A look at the bright side of life – is an excellent example of creative cooperation between local commerce and local artists
Saturday, February 11 at 1:00pm at Andronicas Art Gallery and Cafe
Please come and join Jaroslaw at the opening of his first solo exhibition and explore his refreshingly uninhibited freedom of expression. Jaroslaw expresses a passion for life through an exuberant use of colour and texture. His larger than life paintings demand attention and evoke an exploration of one's own responses to life, love and music.
There are many talented artists living and working in the Peterborough area but very few opportunities to bring their work to local audiences. Andronicas is one of the few venues in Peterborough where artists can show their work in a gallery-like environment and where the public can have access to and enjoy original art.
On this occasion, artist Jaroslaw Jacek Sokol has been provided the opportunity to present his work in his first solo exhibition.
www.facebook.com/events/376785499002736/
Andronicas Art Gallery and Cafe
Peterborough Garden Park
Peterborough Road
Eye
Peterborough
PE1 4YZ
Opening Hours
Monday: 9.30am – 5.00pm
Tuesday: 9.30am – 5.00pm
Wednesday: 9.30am – 5.00pm
Thursday: 9.30am – 5.00pm
Friday: 9.30am – 5.00pm
Saturday: 9.30am – 5.30pm
Sunday: 10.00am – 4.00pm
Tel: 020 7749 4791