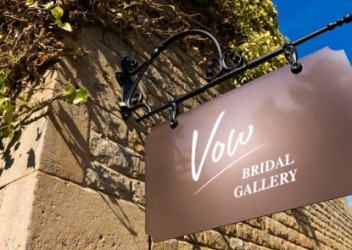 VOW WEDDING DRESS COMPETITION
Entry Deadline: Sunday 30th September 2012
Competition Entries Closed
In September, bridal boutique Vow will be celebrating their paper (AKA first year) anniversary and to mark this they're treating one special bride-to-be to some silk
SIMPLY PUT, if you buy your gown at Vow between now and 30 September, you'll go into a draw to be reimbursed in full. Owners Lisa Smith and Dave Gallagher are passionate about giving their customers the red carpet treatment, and this generous offer is the icing on your three-tiered wedding cake. As Lisa says:
It has been an excellent year for Vow and that is why we are offering this once-in-a-lifetime opportunity!
Your special day starts early when you shop for the perfect dress at Vow. Located over two beautifully designed floors in the grounds of the historic Haycock Hotel, the boutique stocks award winning bridal designers whose unique style and aesthetics are exclusive to the area. Whatever your desire – vintage, fairy tale, sleek, traditional, or quirky – you will find it here.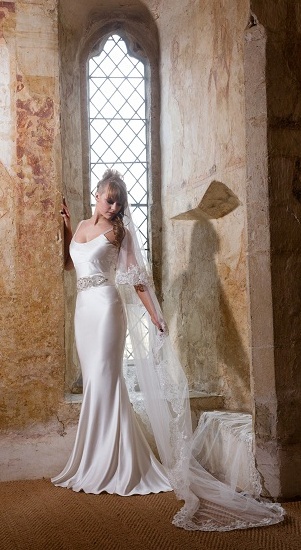 First, there is British designer Natalie Gladman of Madeline Isaac-James, focussed on a modern, precise design and cut, using traditional fabrics such as lace, silk chiffon, taffeta and organza. Then there is rising star Sanyukta Shrestha, a Nepali-born, British-based designer known for using ethical materials and beautiful embellishments. And we should also mention Annabel Jenkins known for her modern and stylish designs.
The shopping experience at Vow is also unique. As Lisa said in an interview with The Moment Magazine last year:
We want our customers to have the full experience and enjoy our hospitality. It's not about coming in and simply finding a dress, we want to understand the type of wedding our customers want and work with them to fulfil their wishes,' she adds. 'A wedding day is special, and that feeling should be with our customers from the moment they come in and see us.
We were already in love with Vow, but with this offer, which is worth up to £2,000 to the lucky winner, we can't think of a better place to begin planning your wedding.
Competition details:

COMPLETE THE ABOVE ENTRY FORM AND MAKE YOUR APPOINTMENT (see contact details below).
Once you have purchased your dress (between now and 30 September) you will automatically be entered into the draw.
The draw will take place at the end of Oct.
The winner will then be reimbursed for the gown.
TERMS & CONDITIONS:
Confirmation of wedding must be supplied in order to satisfy the conditions of entry.
Dress will only be made to the measurements of the bride entering the draw.
Accessories, including overlays, boleros, veils, belts, skirts, tiaras etc are not included.
Standard lead-in timescales for the making of the gowns apply.
Only dresses within the Vow collection – at time of going to print – are applicable.
Competition entry is subject to a 50% deposit and the remaining balance is to be paid in full by the closing date of 30 Sept 2012.
Winner will be notified by 31 Oct 2012.
Vow Bridal Gallery
The Haycock Hotel
London Road
Wansford, PE8 6JA
Vow Opening Times:
Tues – Friday 10am – 6pm
Saturday 9am – 6pm
Late night Thursday by appointment only
Tel. 01780 781 101
thegallery@vowbridal.co.uk
www.vowbridal.co.uk