The Perkins Great Eastern Run 2017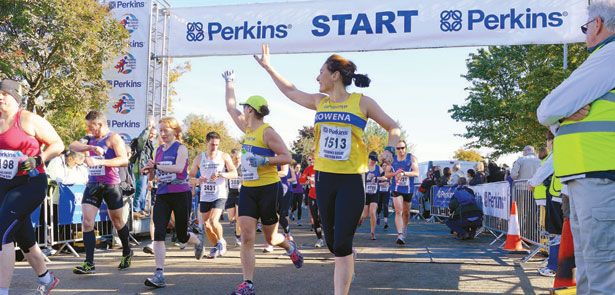 The Perkins Great Eastern Run – now in its 12th successive year – is gearing up to be the biggest ever with more than 2,000 entries already committed. Miles will be run. Money will be raised. And thousands will be cheering as the runners make their way through the city. Will you be on of them? Time to dust off those running shoes...
The Perkins Great Eastern Run (PGER for short) is one of those local events that just grows and grows, and each year helps to put Peterborough on the map. In 2016 the city council-organised race had the highest turnout of runners in its 34-year history. A total of 4,262 runners ran the half marathon and 1,257 people took part in the Anna's Hope Fun Run. Entries for both the half marathon (5,224) and fun run (1,398) also eclipsed the previous highest totals recorded in 2013.
The event had the strongest-ever representation from elite runners and there were six wheelchair entries. Runners came from all over the UK and, indeed, the world, with entries from USA, the Netherlands, Italy and France. At one stage during the event more than 10,000 people gathered on The Embankment as runners crossed the finish line to cheers from an emphatic number of supporters and spectators. Unlike many UK half marathons, the Perkins Great Eastern Run starts and finishes in the heart of historic Peterborough and takes in plenty of sights along the way. Not only does its fast, flat course give runners an excellent chance of a personal best, it's lined throughout with supporters, giving runners excellent encouragement and support.
Runners also welcome the high-quality goody bags that are given out at the finish line, which include a technical t-shirt, a commemorative medal and other runningrelated treats. There's family entertainment and a funfair at The Embankment and the half marathon action starts at 10.30am, following on from the wheelchair race at 10.25am and the Anna's Hope Fun Run at 10am. It's never too early to start training for the big day and from July runners can take advantage of the race's free training sessions that take place at the Peterborough Embankment Athletics Track. The sessions cater for runners of all levels of fitness and experience and it's an opportunity to meet race-day pacers who lead runners around the course at different times from start to finish.
● For more informatiion about training and to enter the race, visit: www.perkinsgreateasternrun.co.uk 
Free PGER training sessions
If you are thinking about taking part in the 2017 Perkins Great Eastern Run but need a little extra help to get you prepared for the big race, then these free training evenings are for you. Runners of all abilities are welcome to attend the free training sessions that take place at the Peterborough Embankment Athletics Track. The training sessions have been organised by Advance Performance and are held in conjunction with experienced runners and coaches from local running clubs, who will lead the runs. Each training session begins at 7pm with a warm up. Runners will be divided according to level of fitness and aspirations before being taken for a training run. Free parking is available at the Regional Fitness and Swimming Centre car park and the athletics track has full changing and shower facilities.
Training sessions take place on every other Wednesday from July. The dates are: ● 12 July ● 26 July ● 9 August ● 23 August ● 6 September ● 20 September ● 4 October ● For more information email  
Get into training – with Yelling Performance!
The Perkins Great Eastern Run has teamed up with Liz and Martin Yelling to offer runners the best available advice to help them train for and complete this year's half marathon. Olympian long distance runner, Liz, ran the 2011 Perkins Great Eastern Run and set a new course record for a female runner, completing the course in 72mins 14secs. You'll find the training tips – all compiled by Yelling Performance – free on the PGER website.
If you have really got the running bug then you can enter the Perkins Great Eastern Run 2016 or Anna's Hope 5km fun run, both on Sunday 8 October, on the Perkins Great Eastern Run website www.perkinsgreateasternrun.co.uk
The time, the place…
The assembly point for the half marathon, wheelchair race and Anna's Hope Fun Run on 8 October is at the Embankment where all races start and finish. Fun Run competitors will move to the start line at approximately 9.45am for a 10am start. The wheelchair race will start at 10.25am and the half marathon at 10.30am. Please check the website for more detailed information, including times of prize presentations. There will be plenty of stalls, refreshments and a continental market for spectators to enjoy at the Embankment, with the city centre shopping area a five minute stroll away.
Keeping up the pace
The PGER takes place on a flat, fast course which means runners have a good chance of setting their best possible time. 2014 saw the introduction of race pacers and once again this year will be helping runners to achieve that goal on race day.
Pacers will lead seven different target times ranging from one and a half hours finish time to two hours and forty five minutes. ● 1:30 (6.52 min/mile) ● 1:40 (7.38 min/mile) ● 1.50 (8.23 min/mile) ● 2.00 (9.09 min/mile) ● 2.10 (9.55 min/mile) ● 2.20 (10.41 min/mile) ● 2.30 (11.27 min/mile) ● Get you round – target pace 2.45 (12.35 min/mile)
The Jane Tomlinson Appeal
For the second year running, the Jane Tomlinson Appeal is the charity partner of the Perkins Great Eastern Run. When it comes to sources of inspiration – examples that make us want to strive harder, whether in sport or in life – few are more compelling than Jane Tomlinson. Diagnosed with terminal breast cancer in 2000 and given six months to live, she could, quite reasonably, have decided to spend her time quietly. But that was not her way. Instead, she took on increasingly gruelling sporting challenges – including numerous marathons and an Ironman Triathlon – using them to raise both awareness and cash to fight cancer.
It was in this phase of her life that she was to have the most significant impact on the world, and her efforts were recognised time and again. She was awarded an MBE, and subqequently the CBE, she was the recipient of the Helen Rollason Award at BBC Sports Personality of the Year in 2002, was twice recognised at the Sportswoman of the Year Awards, received a Great Briton Award, was voted the Most Inspirational Woman in Britain in 2003 and was recipient of a Pride of Britain Award in 2005. Not bad, considering all these came to her during the years doctors had initially predicted she would never have.
Jane died in 2007, but her legacy continues in the form of the Jane Tomlinson Appeal, now the charity partner of the Perkins Great Eastern Run. And although Jane was a proud Yorkshirewoman, she has a significant connection with the city of Peterborough, as her husband Mike explains: 'Peterborough has always had a special place in our hearts and was home to our family for several years; our daughter Rebecca was born there in 1988. We all have great memories of the city and its people, who were very warm and welcoming when Jane and I moved there as a young family.'
Annette Joyce, Service Director City Services and Communications at Peterborough City Council, who has guided the development of the race during the past decade, adds: 'Jane was an inspirational woman who turned thousands of people towards running and we are proud to be associated with such an excellent cause.' All the money raised by those running for the Jane Tomlinson Appeal stays in the city and is divided between local causes. Jane's example shows just what can be done – so maybe it's time to get up and running! www.janetomlinsonappeal.com
The Anna's Hope Schools Challenge
Local children's charity Anna's Hope is challenging schoolchildren to make a difference to the lives of children with brain tumours in the Anna's Hope Fun Run. Brain tumours are the biggest cancer killer of children in the UK and for those who survive most need specialist rehabilitation. By running and raising funds for Anna's Hope they can help make a difference to a child in the region with a brain tumour.
● £30 funds a child's specialist rehabilitation for one week.
● £125 funds a child's specialist rehabilitation for one month.
Each school child who signs up for the Anna's Hope Fun Run raises at least £30, will receive a free Anna's Hope T-shirt to wear on the day. Family members and teachers can also sign up and join. The Anna's Hope' Schools Challenge Cup, sponsored by ChromaSport and Trophies will be awarded to the school which raises the most money for Anna's Hope – and there will be a cup and £50 gift voucher for the 'Top Boy' and 'Top Girl' fundraiser.
All entrants in the Anna's Hope Fun Run will receive a running number and a chip timing device so you can record your accurate time and the results will be published on the race website the next day. All those who complete the course will also receive a unique medal designed especially for the event. Runners for Anna's Hope are also invited to the Anna's Hope marquee after run for a celebration party, sponsored by Aldi. This year the entrance fee for 16 year olds is £6.
● To apply for sponsorship information, including sponsor forms and an Anna's Hope t-shirt, email or telephone 01780 740492. ● To sign up to the event as a school, please email for further instructions. ● www.annashope.co.uk
These pages have been supported by Peterborough-based Perkins Engines Company Limited, one of the world's leading suppliers of offhighway diesel and gas engines.
Leave a Reply