#SummerFun | Get out and about this summer in Peterborough!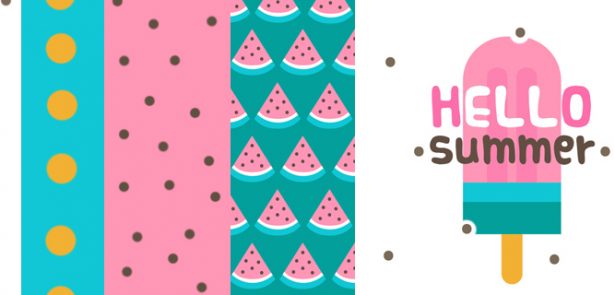 In May the Lido has its annual grand opening event with free swimming for all – and that means summer is really here. With that in mind, we offer our pick of Vivacity venues designed to tempt you out of doors...
Peterborough Lido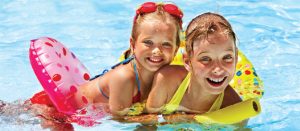 Bishops Road, Peterborough, PE1 1YY
Peterborough Lido, enjoyed by over 20,000 visitors annually, re-opens for the summer season on 27 May and this year celebrates its 81st season. Entry on the opening Saturday and use of the pools is FREE and there will be food, music and demonstrations to add further to the festive atmosphere. The Lido offers three heated outdoor swimming pools; a 50m heated main pool, a teaching pool for children and a paddling pool for toddlers. The three large sun-bathing terraces, a large grass lawn and play area for the kids make the Lido the perfect venue for a fun family day out. There is also an on-site cafe serving hot and cold food as well as ice-cream and refreshments.
● Open 9am-7pm for 100 days from opening day on 27 May through to 3 September. ● There are 2 offers running for Summer 2017 at the Lido
● £90 for 100 days – ticket purchases to be made before 28th May at all Vivacity sports sites and on the opening day of the Lido.
● £30 for 30 days – can be purchased throughout the summer at the Lido only.
● For all other entry prices for members of Vivacity Cards and non-members, go to www.vivacitypeterborough.com/lido or call 01733 864761 Supporting children's swimming In a commitment to encouraging child swimming and water confidence Vivacity are now proud to offer all children under 5 FREE swimming at the Lido during the summer as well as at three indoor pools across the city – ask staff for more details.
Kindred KYT Summer School
Key Theatre, Embankment Road, Peterborough PE1 1EF
For the most dramatic way to spend the summer holiday don't miss out on Kindred Key Youth Theatre's Summer Schools! The Kindred Key Youth Theatre's Summer Schools have become a fixture in the Peterborough area, providing funfilled adventure for children and young adults through acting, movement, music and singing. Summer Schools last a week and at the end of each week comes the opportunity to stage a spectacular performance on the Key Theatre's stage. Two Summer Schools run in July and August. Groups are split by age, with budding actors ranging from seven to 18. There are four age groups in total, roughly split: seven to nine-year-olds; 10 and 11-year-olds; those aged 12 and 13; then an older group of young adults 14 and up. Acting experience definitely isn't a necessity, but a willingness to have fun and give it a go is – and all of the children get to work with professional directors, musicians and choreographers. One week costs £160 with a 10% discount per additional child for families sending more than one child or for those booking more than one week. Every child receives a Summer School T-shirt, which they can keep at the end of the week.
Kindred KYT Summer School 2017
● Week 1: Mon 24-Sat 29 July
● Week 2: Mon 31 July-Sat 5 Aug
● Mon-Fri: 9.30am-5.00pm
● Saturday (Performance day): 9.30am-7.30pm
● Early drop-off available for £20 per week.
● To reserve your place head to www.kindreddrama.com/summer-school and complete the online form or email
Flag Fen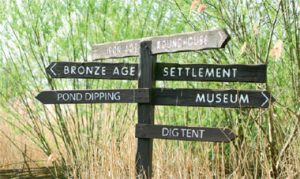 The Droveway, Northey Road, Peterborough PE6 7QJ
In 1982 archaeologist Francis Pryor began digging at Flag Fen, uncertain quite what he would find. What he uncovered was jewellery, swords and a wooden Bronze Age causeway consisting of more than 60,000 vertical timbers and 250,000 horizontal planks – part of one of the most significant archaeological sites in the world. Flag Fen's purpose-built visitor centre tells the site's story and provides visitors with the opportunity to see original timbers and other significant finds – including the Must Farm boats – alongside a reconstructed Bronze Age roundhouse. The 10-acre, wildlife-rich site also provides a venue for regular themed workshops, lectures, exciting re-enactment events and fun activities for children exploring nature and history, including the Big Dig tent, which allows children under 12 to have a go at being archaeologists. There are also some new trails for the 2017 season to get kids of all ages out and about exploring the site and the parklands. It's a great day out for all the family to take in the fresh air and explore such an important site in the city of Peterborough.
● Flag Fen is open to the public from April to September but offers guided tours and school visits all year round.
● Open every day 10am-5pm (last entry at 4pm)
● For information call 01733 864468 or visit www.vivacity-peterborough.com/vivacityvenues/flag-fen
● For school visits please telephone the Education team on 01733 864700.
Peterborough Museum
Priestgate, Peterborough PE1 1LF
Peterborough Museum is housed in a Georgian mansion (itself built on Tudor foundations) offering a wealth of stories to fascinate and enthral for all the family. Not least of these is the story of the building itself, which served as the city's first hospital before becoming the Museum – and is now renowned as the most haunted building in Peterborough! With amazing objects and interactive displays for all ages, the collections contain items of great national and international importance. Discover the original Victorian Operating Theatre. Find out about the creatures that swam in our seas over 150 million years ago. Explore the story of the world's first prisoner of war camp – and come face-to-face with the Museum's ghosts underground in the Priestgate Vaults! The Museum tells the whole story of Peterborough, from pre-history through to today. A great place for all the family to discover and explore. Don't just take our word for it, it was voted the 4th best place to visit in Peterborough by visitors via TripAdvisor. Squire's Coffee House at the Museum provides delicious lunches, homemade cakes, cream teas, freshly prepared sandwiches and warm beverages to enjoy in, or grab and go. They also have their own art exhibitions, often with original works for sale. The Museum's Heritage Shop offers a range of gifts and souvenirs, from fun family presents to works by local artists and craftspeople. With your Vivacity Card get 10% off.
● Open Tuesday-Sunday, 10am-5pm
● Mondays in school terms: CLOSED
● Mondays in school holidays & Bank Holidays: 10am-5pm
● The Museum is closed on Christmas Day, Boxing Day and New Year's Day.
● For information, call 01733 864663 or visit www.vivacity-peterborough.com/museum
Don't miss…
Tucked behind the Museum is a beautiful, tranquil garden – now lovingly restored to reflect the site's fascinating 450 year history and perfect for a sunny day. The garden includes a raised bed for a WWII Victory Garden, four wooden planters for medicinal herbs reflecting different eras of the building's life, a wildlife garden and seating.
● The Museum Garden is open to the public every Saturday from April to September and access is by the gate in Trinity Street which runs along the side of the museum.
Sculpture Trail
Nene Park Thorpe Meadows, Peterborough, PE3 6LN Ferry Meadows, Peterborough, PE2 5UU
Vivacity's sculpture collection consists of 27 large-scale sculptures – some of international importance – which are on permanent display around the city. Included in the collection are Lagoon by Sir Anthony Caro, Peterborough Arch by Lee Grandjean and Festival Boat by Sokari Douglas Camp, representing an impressive collection of 20th Century sculpture. 15 of these pieces have found a home in Thorpe Meadows where they are displayed in a parkland setting along both sides of the Peterborough Rowing Course.
The sculpture trail can be walked in half an hour, with a map available to download from the Vivacity website showing the location, title and artist of each piece. Bird in Flight by Bob Dawson is due to be relocated to Ferry Meadows in May where its bold stainless steel wings overlook the beautiful lake. John Maine's stone work Pyramid can also be found here. Even if you don't want to linger over each piece, there's plenty more to do so you can make a day of it; both Thorpe Meadows and Ferry Meadows are great places to walk the dog, cycle, jog or just to relax. And if a picnic isn't your thing, the hotel and pub at the head of the rowing course both provide meals and drinks in attractive settings overlooking the water.
Where to find it
Thorpe Meadows is approximately one mile from the City Centre.
By car: Follow the A1179 out of the City Centre heading west and then turn left into the hotel/pub car parks. From the A1 enter Peterborough on the A47 or A1139 turning right or left respectively onto the A1260 and then turning onto the A1179 as shown on the map. By bus: There is a bus service from the city centre bus station.
By bicycle: The Meadows are accessible by cycle. A Peterborough Cycle Map showing all city cycle routes and other information on cycling in the city is available from the Tourist Information Centre. Ferry Meadows lies 3 miles west of Peterborough and just two miles east of the A1.
By car: On all major routes into the city, look for and follow the brown tourist attraction signs for NENE PARK or the country park symbol. Ferry Meadows is signed on Oundle Road (A605). By bus: There are bus stops within walking distance of Ferry Meadows on Oundle Road and at Ferry View. By bike: Ferry Meadows is well connected to both the city and the wider Nene Park via a traffic-free cycle route. A section of this route forms part of National Cycle Route number 63.
● For information on each of the sculptures – and others around the city – and a downloadable map of the Thorpe Meadows trail, visit: www.vivacitypeterborough.com/heritage/sculpturecollection/
Longthorpe Tower
Thorpe Road, Longthorpe, Peterborough, PE3 6LU
Longthorpe Tower was built in about 1290-1300AD by the Thorpe family, and is a rare survival of a medieval 'solar tower'. It is also internationally important, thanks to the spectacular wall paintings which offer a fascinating insight into the medieval mind and daily life. There are regular family-friendly medieval events held at Longthorpe, allowing visitors to encounter some characters from the period and learn about medieval food, manners, medicine and combat – as well as putting kids through some essential weapons drill! Keep a check on the Vivacity website for details.
● Managed by Vivacity on behalf of English Heritage, Longthorpe Tower is open to the public on Saturdays, Sundays and Bank Holidays from April to October, 10am-5pm (last entry 4pm).
● Parking for Longthorpe Tower is available in St Botolph's church car park, approximately 100 metres away from the Tower.
● For information, call 01733 864663 or visit www.vivacitypeterborough.com/vivacity-venues/longthorpe-tower
Don't miss…
Knights & Princesses
12-13 August, 10am-5pm (last entry 4pm)
Knights in shining armour and princesses in wonderful gowns bring Longthorpe Tower to life for the whole family. No need to book, just drop in. £3 children, £4 adults, £12 families.
Summer Reading Challenge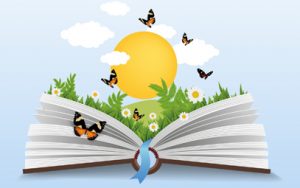 Everywhere!
The annual Summer Reading Challenge takes place across all Peterborough's libraries, designed to encourage literacy and simply get kids enjoying books. But books don't just belong in libraries – they belong in the hands of avid readers, and the beauty of a book is you can take it anywhere. So, whether your taste runs to Charles Dickens, Julia Donaldson or Roald Dahl, head outdoors, find a sunny spot, lean back against a tree and let yourself be transported…
Keep up-to-date with great summer activities around Peterborough this summer with The Moment's hashtag #SummerFun
Images
www.freepik.com/free-vector/realistic-background-with-open-book-and-butterflies_1071985
www.freepik.com/free-vector/summer-cards-with-ice-cream-and-watermelon-portions_1113360
Leave a Reply