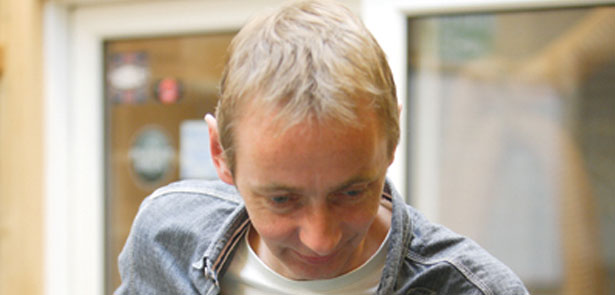 The Business Moment talks to guitar maker Adrian Hardman about how he turned a personal passion into an internationally respected brand – and a thriving business.
To anyone thinking of buying a guitar, I would say one thing: Buy with your ears and with your hands, not with your eyes.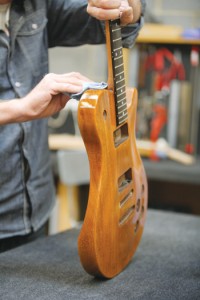 says electric guitar maker Adrian Hardman. It's sound advice (pun definitely intended), and key to Hardman's ethos. Right from the very start, his career in music has been defined by an enthusiast's quest for great sound and playability. It seems to be working for him. Guitars hand-made under his own Vanquish brand have won huge critical acclaim, including coveted Guitarist Choice awards, and rising blues star Oli Brown has become such a fan that he's got his own signature version of the Vanquish "Legend". Hardman is now recognised as one of the finest luthiers in the world, with his company Vanquish sponsors of this year's Newark Blues Festival.
Perhaps, though, Hardman is being a bit modest about the looks department. Drop into his centre of operations – the Guitar Lounge, tucked away in Orton Southgate, Peterborough – and you're immediately struck by two things. First, with its coffee and sofa it entirely lives up to its name. Second, the instruments that surround you – many of which are representatives or variations of his Vanquish range – are beautiful things to behold. There's nothing brash or flashy here – no flying V's or bodies shaped like the Millennium Falcon – just smooth lines, beautiful materials (including trademark Brazilian mahogany with a book matched maple top), and designs that have been lovingly honed over years. The Guitar Lounge is also home to ToneDoctor, who provide basses, spares, repairs and a trade in used instruments – so a flying V isn't completely out of the question if the 70s vibe is what you crave.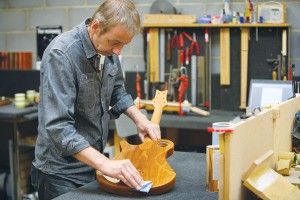 Talk to Hardman for just a brief time, and the rationale behind the 'lounge' becomes clear. These surroundings are designed to provide prospective customers with a relaxed environment to browse and try out the goods. But also, consultations with musicians wanting a specific custom build can be an all day process. Hardman cites a recent customer from Bristol who stayed for six hours. Nothing is rushed here. As the Vanquish website says, these instruments are "built with passion for passionate players".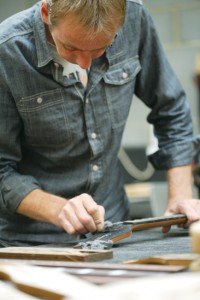 For Hardman, making guitars started long before it ever became a career. "It actually began at school," he says, "where I made an electric guitar as a project." From school, he moved into the family business – a career as a floor layer, laying carpets and wooden flooring. But his love of guitars remained.
I found I had some money and decided to buy a really decent electric guitar. I went to the usual suspects, in terms of stores, but couldn't find anything I really liked.
For most of us, that would mean a necessary compromise. But not Hardman.
I looked at the prices they were asking and told my wife 'For that kind of money, I reckon I could build one…
It might seem a near-impossible task, making an instrument that meets all your personal criteria of perfection. Even more so for one guy to hold his own against the big names in the industry. Undeterred, he went to the library, got some books on the subject, and locked himself away in the garage.
By now he had begun to identify issues with commercially-produced guitars from which he could learn,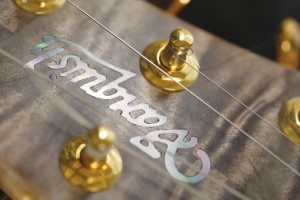 and which he was keen to overcome. "Some brands are bolted together, which is meant to be an advantage if you need to replace a part, but that's not necessarily best for sound or playability. And others have some inherent issues with string tension." Eventually, he emerged with a guitar of his own. "That was, in effect, the original Vanquish."
I venture that these beginnings are rather reminiscent of Brian May. "Without the toilet seat…" adds Hardman. The legend goes that electronics geek May made his first guitar in his shed with his dad, using a slab of wood that was originally intended for the smallest room. Inauspicious though this beginning may have been, the sound of this unique instrument – combined with Freddie Mercury's vocals – came to define Queen. While Hardman's story lacks the lavatorial content, a different kind of seat recently provided the perfect raw material. "We got some mahogany from old benches that had been in the halls of Manchester University," he says. "People had just sat on it for years eating their lunch. But strip the lacquer off it and it's the most beautiful mahogany you've ever seen. Perfect tonewood."
Having created that original instrument, Hardman's next move was to take it to a guy in Peterborough who had been doing guitar setups for 20 years. He was so impressed, he suggested taking up guitar building professionally. Hardman took the gamble, and finally moved from his garage to the unit where the Guitar Lounge is now located. That was just five years ago.
But you could say it all began with a school project, a trip to the library and a bit of determination.
Make that a lot of determination. Hardman now knew he could make the instruments; the next challenge was getting the word out. In 2007, having honed the early prototype to create the Legend – the first standard 'production' model (though even this is something of a misnomer; all are individually hand made) – Hardman drove it to the house of Guitarist magazine's reviews editor Dave Burrluck. Burrluck liked what he played, thinking it showed great promise, but nevertheless found it lacking in certain key areas. The final verdict on that first encounter was, to use Hardman's phrase: "close – but no cigar".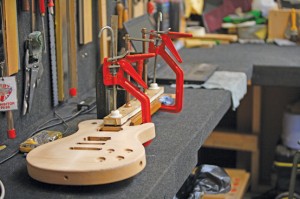 Rather than mope or complain about his lot, Hardman took the criticisms on board and went back to work. What he returned with, two weeks later, surpassed all expectations. In Guitarist magazine's November 2007 issue Burrluck gave it a rave 4.5 star review and a Guitarist Choice award, which still hangs in the store. The review concluded: "Sound is just one part of this excellent machine. It stays in tune so well we actually had to detune a string to evaluate the smoothness of the tuners…" The Vanquish Legend Classic – and Hardman – had arrived.
Clichéd though it may sound, Hardman has gone from strength to strength ever since, getting star endorsement not only from Oli Brown, but also guitar legends Chris George and Pat McManus, plus further rave reviews from Guitarist – including another 4.5 stars and a Guitarist Choice award in 2010 for the single-cut Vanquish Mystique. Their verdict on this occasion was: "This is the best Vanquish electric yet: a thoughtful, considered guitar with impeccable build, versatile sounds and a more-than-fair asking price." New for 2012 is the Vanquish Alchemy range, with even more hand-carving and, almost certainly, an illustrious career ahead of it. People are now even looking at his guitars as investments – especially the earlier serial numbers, one-offs and custom builds.
Sales and marketing manager Dimitrios Kyprianou feels there are two key qualities that have made Hardman's guitars a success. "First and foremost, it was always a no compromise approach to guitar-making – gold hardware, pearl inlays the best woods…" Certain features have become signature, such as the way the bridge and controls are recessed into the body. These and the waxed finish create not only a clean, ergonomic design, but give each instrument a seductive, tactile quality – and have a significant effect on playability.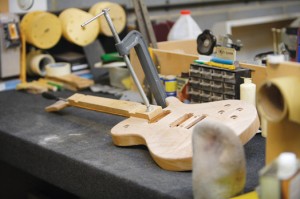 Kyprianou claims Hardman has even developed a Jedi-like ability of knowing how a piece of wood is going to sound just by picking it up. "But he's also really unassuming and approachable. It's kind of open house. You come to the workshop, you choose your bit of wood – it's a fully immersive process."
The more customers who came, and the more Hardman listened to them – which was a lot – the more he realised that many had specific, individual needs, and that since each guitar was hand made anyway, there was no reason why he couldn't accommodate them.
Some have their own take on the design, or a particular type or piece of wood they'd like. All are variations within the basic designs of the Legend, Mystique and Alchemy, but within those basic parameters, it's custom-built. It's not manufactured, and it's not outsourced to China.
In the end, that personal touch is what Hardman is all about. While he has flirted with the idea of expansion, there's a sense in which this would run counter to all he values, and all that has made him a success. "The bigger you get, the further you get from what you're doing. Fundamentally, I love making guitars, and it's the craft and the connection with the bit of wood that makes it all worthwhile" All he asks is a full order book – and right now, that's looking pretty healthy.
World domination, then, is not on the cards. But it would be nice to think that, thanks to dedication to his craft, Hardman has secured a modest legacy – not just a lot of happy customers, who, one hopes, will love and cherish their instruments, and ultimately pass them on, but a place in the annals of the truly great guitar makers.
The Guitar Lounge
Unit 56,
Culley Court,
Orton Southgate,
Peterborough,
PE2 6WA
01733 367 700
Leave a Reply