Adam Walker Now Half Way Through Ocean 7 Challenge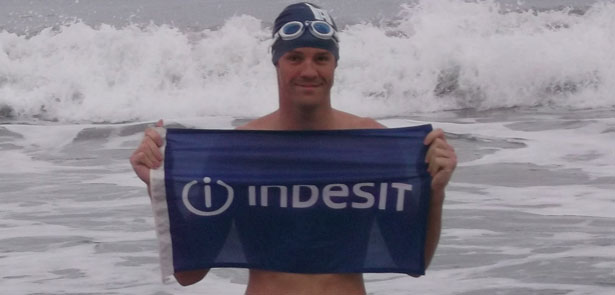 Indesit's Adam completes chilling Catalina swim for charity
Cold night time waters, disorientating fog and jellyfish stings to the face were all overcome by an intrepid swimmer who has just completed one of the world's toughest open water challenges.
Indesit's National Account Manager Adam Walker pushed his way through the pain barrier to finish the 21-mile Catalina Channel in an impressive 12 hours and 15 minutes.
The record-breaking 33-year-old, who works at Indesit's head office in Morley Way, Peterborough, has now passed the half-way point in his attempt to become the first British swimmer to complete the Ocean 7 Challenge.
Adam has swum the English Channel, the Strait of Gibraltar (breaking the British record for one of the two crossings), Hawaii's treacherous Molokai Straits (the first British person to do so) and Catalina, in California, USA, leaving him with three more to go.
He said
It was very tough. It took me to the edge of my limits but failing was not an option for me. The worst part of the swim was how I was consistently sick from the disorientation in the dark. My left shoulder was also getting so sore it meant I was basically swimming with one arm for the last four hours
Adam, who trains at Peterborough Regional Fitness and Swimming Centre near Indesit's head office, also revealed how he was stung on the face by jellyfish and was told it was likely that great white sharks would be swimming half a mile beneath him.
Conditions were very foggy so I couldn't see the finish point until I was 150 yards away. But I had a welcome boost when a boat from the Los Angeles Fire Department accompanied me for the final three miles of the swim, with officers on board shouting out encouragement!
White Goods Manufacturer Indesit again sponsored Adam who is raising money for the charity SportsAid. He raised £1,000 swimming the Molokai Straits in June and he hopes to match this total with Catalina.
The remaining three swims in the Ocean 7 Challenge will be the Tsugaru Strait in Japan, the Cook Strait in New Zealand and the Irish Channel between Scotland and Northern Ireland. Adam is aiming to swim Tsugaru in June 2013 and will soon be back in training after completing Catalina on October 16th.
To sponsor Adam visit www.justgiving.com/catalinaswim
Leave a Reply